Germaine and the Kids
la chorale intergénérationnelle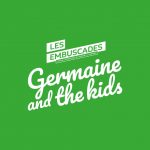 L'histoire de Germaine and the Kids
La chorale « Germaine And The Kids », initiée par le festival des Embuscades de Cossé le Vivien regroupe des résidents de 7 EHPAD du territoire de Craon et une classe de l'école de St Quentin les Anges.
La chorale dirigée par Pierre Bouguier est accompagnée par le groupe Mémé les watts.
Le projet a été réalisé en partenariat avec l'Etablissement d'Enseignement Artistique de Craon (et l'intervenante Anne Dugué) et le Groupement des 7 EHPAD. Après leurs 2 premiers concerts, la Silvernight a invité GATK le 2 avril 2019 au Grand REX !

Quelques vidéos
Louxor – Huguettes, Germaines and the Kids, Mémé les watts le 22 octobre 2019 à Ernée
GERMAINE AND THE KIDS au Grand REX – reportage France 3 / épisode 1
GERMAINE AND THE KIDS au Grand REX – reportage France 3 / épisode 2